CHATEAUNEUF DU PAPE . Located 10 km south of Orange and 18 km north of Avignon .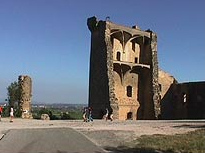 At the bend of a road, a peaceful Provencal village appears, emerging from a sea of greenery. Vines of sight, no doubt, we are in Chateauneuf du Pape.
Chateauneuf-du-Pape spreads out at the foot of the ruins of his castle. This village is almost entirely devoted to the famous wine « Chateauneuf du Pape » to the equally famous « Cotes du Rhone  » appellation.
Evidence of a glorious past, the Castle of the Popes owes its existence to Pope John XXII, who fell in love with places in the fourteenth century, it established his summer residence.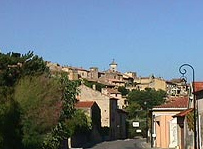 Despite many vicissitudes, the castle remains today the center of village life and many events are held in the Cellier Pontifical.
The village center is run by the many wine cellars of different areas. The choice will be difficult for the uninitiated, the tastings are quickly turning the head …. The facades of the « caveaux » are also different from each other, some luxurious, others more simple. Some are on the ground floor of the village houses, for others you go through small doors or narrow passages, but all roads lead fans in the home of good wine.
Strolling through the vineyards, the lover of these wines reds and full bodied, aromatic whites and those not fail to wonder at the presence of large pebbles. These stones have the advantage of capturing the sun's heat during the day and return to the vine at night to promote the maturation of the grapes.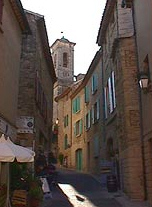 At the end of the village, the museum of wine tools, installed in the basement of Father Anselm, contains a large collection of tools used in the work of Vine and Wine dating some of the sixteenth. Including a press, barrels and corkscrews.
A little further, you discover the chapel of Saint Theodoric, who is Roman and welcomes summer art exhibitions.
The first weekend of August with the Festival of Véraison, the village returns to the story, and saw a medieval world. But the color change is also the decisive stage of maturity of the grapes which marks the development of flavors and fragrances, and announced the future harvest.
.
Historic sites to visit, see and hobbies
Remains of the papal castle (XIV °).
Hers Tower (XII). Oratories.
Chapel St Pierre du Luxembourg (XVIII)
Chapel St Theodoric (sixteenth)
Fountain Souspiron (fourteenth)
Romanesque Church of Our Lady of the Assumption
The museum tools for growers.
Walking, VTT, Pool, Tennis, Fishing,
Summer events, Crafts, Visit the cellars.
In July the Avignon Festival